1. I mounted a 45w double row Superbright LED's Amber Fog LED on the optional OEM brush guard.
2. I mounted a Seizmik light bar high on the A-pillars in front of the roof. The light bar has the 2 Seizmik 9w LED Floods canted 35 degrees outboard and 2 18w LED Spots aimed straight ahead.
This setting does not do the LEDs justice. I'll have to take some more on the trails at night. The Spots really illuminate out a lot further past the OEM cutoff.
NOTE: This is with the plow mounted and in the down position....no light obstruction.
Amber Fog
Seizmik light bar
OEM headlights
Amber fog
2 9w Floods
2 18w Spots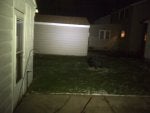 All whites ON, Amber Fog OFF
All lights ON