Discussion Starter
·
#1
·
I'm a GPS lover and don't like to watch a screen 'jiggle' as I drive. This is my new '15 XP900 EPS.
Thought I would share a rock-solid solution for mounting a Ram-Mount "B" flange. Project time: 90 minutes.
View attachment 7962
Dashboard removed
View attachment 7963
Custom bracket to span the Ranger brackets that brace the center of the dash
View attachment 7964
I used a "C" channel type metal to help keep any flexing to a minimum.
View attachment 7965
The green Tie-Rap between the fender washers represents the factory Ranger bracket. I used 8-32x1.5" bolts with fender washers and Nyl-Lok nuts. (bracket is shown upside down)
View attachment 7966
Bracket installed. Now the alignment. The fitment of the bracket was a bit touchy and took 3-4 tries to emulate the angle of the dash cover before I got it just right. The goal was to touch the bottom of the plastic dash but not distort how it fits when you cinch down the Ram-Mount GPS flange.
View attachment 7968
Almost ready to mark the holes for the Ram-Mount after drill and tap for GPS flange mount.
View attachment 7969
With center radio/switch array removed, you can damn near climb into the dash to mark your drill holes.
View attachment 7970
Bracket final resting spot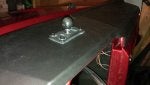 Innocent looking. No unusual vibration.