Discussion Starter
·
#1
·
Well, about a year after having my ranger I finally had time to do my first mod which consisted of mounting a 50 inch led light bar on the front and a 12 inch on the back.
I purchased the light bars from a website called SharpTruck.com where a purchased the 50" for $359 and a 12" for $129. This also included the harness for each bar, which was a must have for this project. A key selling point for me was the lights being a brand name that a recognized (totron) because I have read some good reviews regarding them.
As for the switches, I followed advice from other forum members and ordered two switches from OTRATTW, both to match the stock switches.
These switches are as close as you can get to the stock, and fit great in the dash.
Installation:
OK, so once I got the switches and harnesses from the light bars I went ahead and modified the wiring harness to fit the OTRATTW switches. Unfotunately I diddnt take many pictures during the build, but I basically took the three wires that came from the harness switch (one was switched positive power, one to the relay, and the other ground) and connected them to the OTRATTW switch as follows: 2-switched power, 3-to relay (light bar), and 7-to ground. I jumpered 7-8 and 2-6.
Next I went ahead and dremeled out the empty holes in the dash and popped the new switches in, which was simple enough, though I wanted the switches in a different order, so I basically pulled the terminal off the back of the switch, popped it out, and popped it back into the other spot.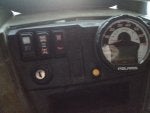 (sorry bad quality)
Now as for the light bar mounting, it was a bit tricky to figure out at first, but it turned out pretty good in the end. I ended up having to mount the front bar to the winsheild as opposed to through the roof as planned, but it diddnt make much of a difference. I did have to use different bolts than what was included with the mounting kit for the rear bar, as the included bolt was not long enough. I rand the wiring up the outside of the front left side of the roll cage and, in addition, along the roofline for the rear bar. I don't have any picture of this currently but can take some if you like.
Hopefully this is helpful for yall...