PART 2 added as a reply.
Following you guys advise when trailering, I leave the Ranger in neutral with the parking brake engaged in transport, using the Pawltector Parking Brake from
[email protected]
The rear safety chains ended up like this.
Excuse the mud. Here's the result so far. I am also considering adding gravel shields in front of each storage box, leaving open the area in front of the Trailer Dog to have more room when cinching it down. On late, hurried arrivals, it helps, when backing off the trailer, to release both the parking brake and the Trailer Dog!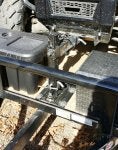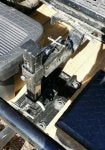 Looking for comments to improve or fine tune the idea.