Need new tires. any advice
It seems like it's time for some new tires on my 900... "and a good washing"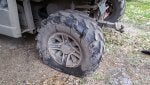 I have a few questions if you guys dont' mind helping me with.
Edit. originally i was looking at the Kanati Mongral and Maxxis Ceros but i've been looking all over the place and i may have found what I'm looking for.
Maxxis Viprs look like they run smooth "smoother then the PXTs" but still have lugs so snow and sloppy gravel won't be an issue. 6 ply. and they come in the right size for my rims!!! a little bit more expensive but probably worth it compared to my original idea of getting some road tires for summer and take off PXTs for winter.
anyone have any experiance with this tire? how is the sizing? i've been reading the PXTs are actually 25" tires not the 26" they're considered by polaris stats... would i want to go with 25"s to maintain similar size? i know the ranger won't have any issue running 26" but i'm worried about the speedometer being off.