Hi guys, On my 99 Ranger 6x6 my fuel pump change out was successful I rode for 1 hour with no fuel problems so the pump was the problem for the engine dying after 25 min trip and would start back up and run after cooling.
Now I have found another problem. As I rode for the one hour on occasion i would hear gears clanging/deep gringing with knock bumping sound from what sounded like the the front diff or left front drive line or hub. The more I rode the more often it would happen, sounded like a handful of large steel balls in a washing machine. I got it put back in the carport and noticed oil on the left hub. It was not coming from the fill hole but looks like around the plastic end cap.
i noticed the 3 screws were a little loose snug but not tight, so I tightened the screws a little, not braking off tight, but hopefully enough to seal off the leak if in fact that is where it's coming from.
Any suggestions on what and how to check it out? I just changed the fluids 3 hours ago using polaris fluids for the hubs and front diff. I wonder if the hub lost enough oil to cause the noise? Should I fill it up to the point of overflow and try it again? I did not realize the front drive shaft turns at all times the machine is moving. So that means the diff is turning and the front drive lines to the wheels. That leaves a lot to check and troubleshoot. I don't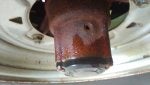 know where to start. I am going to fill the hub up to the point of overflow and hope that will stop the noise (I know but I can hope).