Has anyone ever gotten a "straight answer" from Polaris about why they try to convince us to use their oil. I have looked @ the oil recommendations for the 4 strokes in my house hold.
Woodsplitter w/ Honda motor: 5W30 or 10W30 if the temps are from -30*F to 105*F
Garden tractor w/ B & S motor: 5W30 or 10W30 temps less than 40* F. SAE 30 weight if temp over 40* F. 5W30 or 10W30 syn' will cover a temperature range from -20*F to 100* F
'86 Monte Carlo SS w/305: 5W30 for -20* F to 100* F (preferred). 10W30 for 0* F to 100* F. SAE 30 for 40* F and higher temps.
'11 Chevrolet K2500HD w/ 6L: 5W30 (preferred). "Do not use other viscosity oils such as 20W50. In areas of extreme cold where the temp falls below -20* F use either 5W30 syn' or 0W30."
In all my years around 4 strokes, the recommended oils were usually "ranged" depending on the temperatures to be seen. Never a 1 size fits all. IMO the 5W50 seems overkill for most Ranger owners. A rider in Texas or California would be more interested in using an oil protecting the motor @ higher temps than colder temps. Whereas as Canadian or Alaskan owners would see more moderate summertime temps and lower winter temps. In these locations a 50 weight oil probably isn't necessary in the summer.
From the oil change kit box: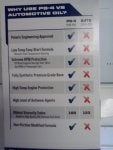 Pennzoil Platinum 5W30 specs (just a quick Google search):
http://www.pennzoil.ca/wp-content/uploads/2014/04/Pennzoil-Platinum-5W-30-Full-Synthetic-Motor-Oil-SN-GF-5-en-TDS.pdf
It has a VI of 170. There may be oils w/ a better VI. Mind you there aren't a lot of xxW50 oils out there unless you go to a racing type.
Any other thoughts?