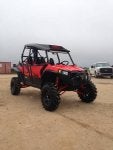 Red 2012 rzr-4 crew 75 hours
Great shape.
Rhino axels front and rear.
Auto form top rear Back up LED.
6 6-9 speakers.
Memphis amp.
Blue tooth radio.
High lifter wench bumper.
4500 HD rope wench.
Pro armor doors and graphics.
Black HD wheels 14".
30" tractor tires
Rear Roll cage.
Rear arched arms.
Pro armor grill.
30" LED light bar. EMP
Optima yellow top battery.
Red Led whip lights and mounts.
Red led hidden lights.
Lock and ride windshield.
High lifter mudder clutch kit.
Custom seats.
High lifter rear hitch.
5 inch high lifter lift.
This is for a good friend of mine. He is asking 15,500 but will consider all offers
(And sorry, I have been trying to resize the photos for an hour. I finally gave up!)
SOLD!!