After pricing out rearview mirrors for the 'Crew and thinking they were priced a bit too high for what they were, it was time to find out what options were out there. I looked around at wink mirrors and convex options that might work with my center overhead speaker setup and discovered that it was actually cheaper to use a reverse camera. I originally ordered a $32 7" Chinese over-mirror monitor kit through eBay that included a camera and RCA video cables. When it arrived I wired it up and the function buttons wouldn't let me get into the menu and the remote control didn't work. The screen also had some lines through it vertically when lit up. It either was not checked by quality control(if there was any) or it had simply been beat up too bad travelling halfway around the planet. Notified the seller and they offered up a $25 refund and told me to keep the goods. I tried to get them to ship me another as I just wanted one that worked, but they declined. The wiring, RCA cables and camera were worth the $7 difference so I agreed. I decided to check around as that monitor really wasn't mirrored and found the Rockville R7CB mirror monitor. It is equipped with not only dual video inputs but also had BlueTooth capability, a USB connection, and a SD card slot. Watched a review video from Rockville and then ordered one from
AudioSavings for $35
on eBay. Researching and digging into reviews of different cameras on CNet and found WickedHD to have good reviews. Stumbled onto an auction listing on eBay for the
WickedHD WRC-117
camera to use up high as it was really compact. To my surprise I won the auction with a $6.83 bid.
The R7CB Monitor has spring loaded mounting tabs on the back that are covered with molded rubber. At (almost) full extension it fits perfectly in the ROPS of the Ranger and holds firm.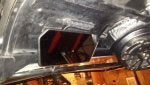 The flip up poly windshield that I have has a bar on the perimeter of the windshield that clears the monitor when closed and the rubber on the monitor tabs barely rub the seal when opening or closing the windshield. No contact when fully closed, open or in the vent position. The R7CB control buttons are touch sensitive and mounted just on the backside of the bottom of the monitor. The R7CB harness was long enough to run it through front of the ROPS to the loom I had on the passenger front pillar then down under the dash panel on the Passenger side where I made my A/V and power connections.
I mounted the license plate style camera to the frame on the rear below the swaybar. I used my wiring from my reverse relay to power the camera and to feed the monitor to trigger the reverse switching. Best location I found for the smaller WRC-117 camera was up high on the middle mount of the reinforcement of the Lock-n-Ride rear window. For that I ran wires between the ROPS and the seal. When I ran my interior lights to the rear I fed an extra power wire in the loom. I wired that to the ignition and fed that to the positive of the camera so it powers up when starting the machine, that camera ground is to the ROPS. The RCA video wire routing was a little more detailed as I routed that on the drivers side of the ROPS down to the underside of the seat so I could run it alongside the other cameras wiring through the driveshaft tunnel under the floorboards. I ran them to the front of the tunnel and up to the backside of the dash following the same route as my heater hoses. I made sure to wrap all wires in reflective flex-loom to hopefully avoid any heat or chafing issues down the road.
All in I ended up with my reverse camera and rear view setup for about $50 and compared to what the rearview mirrors cost, I'm very pleased with it.
Here's a quick video I put together on how it works: