I've been wanting to upgrade mirrors for a while and ran across the new Pursuit Elite Series from Seizmik. My others were "okay" (I won't mention the brand) but didn't have enough adjustment to move to the angle needed.
When they arrived, the first thing I noticed was that the packaging was excellent. If UPS breaks these in transit, then they have BRUTALIZED them.
I didn't realize that different color inserts were available or I'd have gotten the red inserts to follow the color scheme of my machine. Good news is they are available separately and aren't very expensive, so I'll be ordering a set of red ones to add some more bling to the RZR.
One of the best features is that these are guaranteed FOR LIFE
. That's right, read the lower left corner of the box. If they EVER break for any reason, Seizmik will send you replacement parts. How many companies offer a warranty like that these days?! Especially on a piece of off-road equipment.
After opening them, I was immediately impressed with their construction. The aluminum housing is very sturdy and should withstand a heck of an impact. I've already broken one of my old ones (plastic) and had to replace it.
They will fit virtually any cage made of round tubing, and it's my understanding that they also fit the extruded cages on the new 900 and 570 Rangers. Because the mirror connects to the cage mount with one simple bolt, it also wouldn't be difficult to mount these to most cab systems (or to cab doors) by not using the cage clamp and instead through-bolting them with a longer bolt (not included).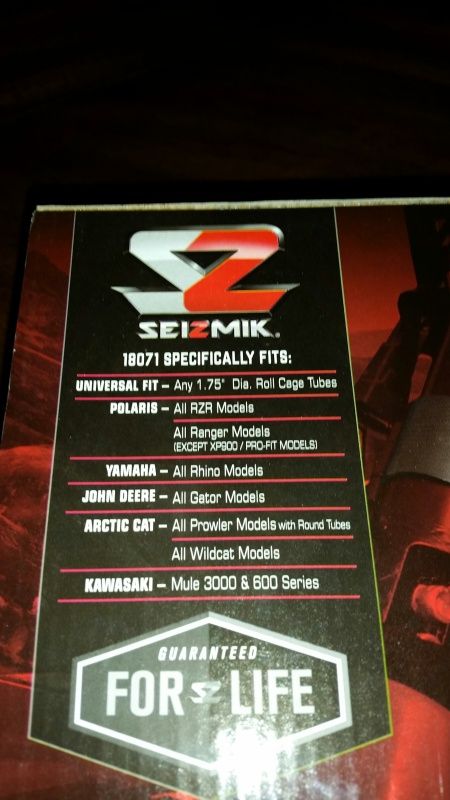 The field of view and virtually unlimited adjustability are awesome.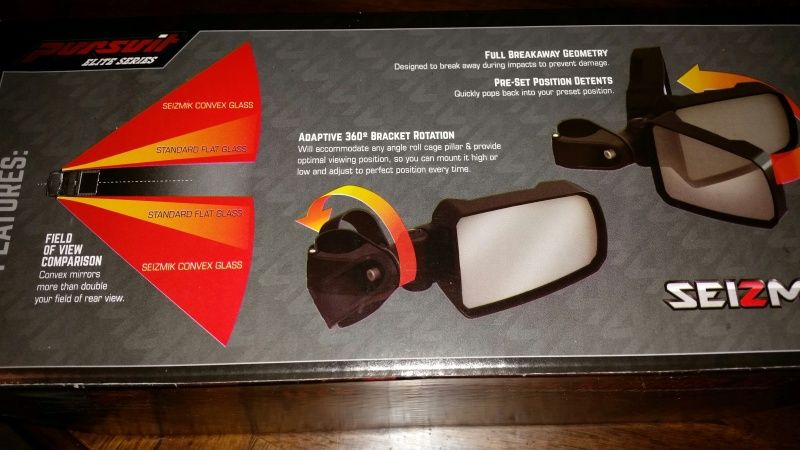 The instructions were clear, concise, and installation is EXTREMELY simple. All you need is a 6mm allen wrench.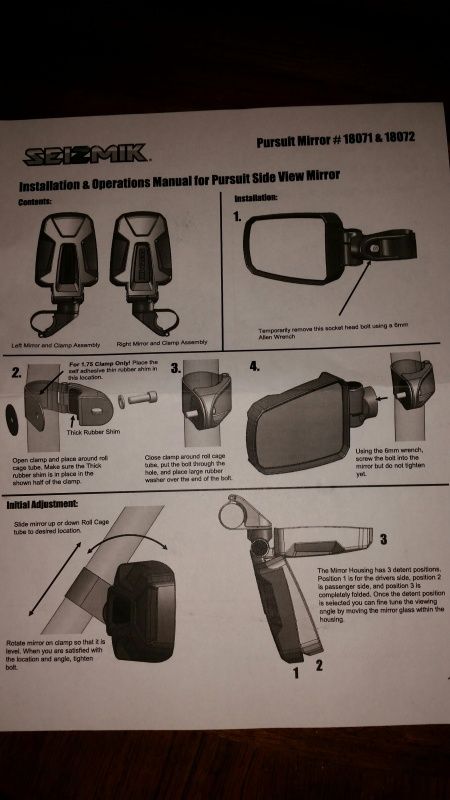 Here's a field of view comparison to my old mirrors. Although the old mirrors actually have a larger field of view, they are also a much larger mirror......and much of the view was wasted (seeing myself in the mirror) because it would not adjust to the angle that I needed for it to be at. The larger mirror also blocks more of your forward field of view (NOT a good thing).
The thinner mount seems just as sturdy as the much thicker mount on the old mirror. And because it is thinner, it causes less interference with rubber weatherstrip between my windshield and cage. I didn't even have to remove or loosen my windshield to install them. I will experiment with different mounting heights over the next few rides, but I began with it in the center height. Due to the large size and lack of angle adjustment of the old mirrors, I really didn't have much choice other than mounting it as high as possible.
Another noteworthy feature is that there are 2 rubber inserts on each mount that keep them from slipping on the cage, plus it keeps from damaging the paint on the cage. This was an issue on my mirrors, and 2 different other brands that my friends are running. They either wouldn't tighten down enough, and/or would still slip up and down or spin on the cage.....causing you to add some hodge podge fix like wrapping rubber strips or electrical tape around the cage.
I guess the single best feature has to be the infinite adjustment. The housing can be mounted at virtually any height, up and down the cage. The housing can be tilted up and down to any angle you desire. There are 4 detent positions in the breakaway mechanism. Plus, once you have the housing adjusted to the desired location, the mirror still pivots inside the housing......leaving PLENTY of adjustment (without tools) for different size drivers and different situations. So now when your 4'11' wife wants to drive after her 6'4" husband has been in the seat, proper mirror adjustment is only a 5 second job.
Here are what I consider the 2 "usable" detent positions. The first is what I would consider the best driver side position.
The second puts it on an angle more suitable to the passenger side.......although for angle comparison, this is shown on the driver's side.
This is what I would call the breakaway position for a rearward moving impact. Although it is not a full 90 degree breakaway, I think it will suffice with a little caution. This position could also be useful when exiting the vehicle. I'm probably being overly critical, but I feel this is the one area where these mirrors could stand a little improvement. If they had a full 90* breakaway in this position, it would be nearly impossible to break them.
In a forward moving impact, you have full 90* breakaway protection.
I've been extremely busy the last couple of weeks and haven't had a chance to test them on the trails, but I expect them to preform as flawlessly as the installation. I'd have to rate them at least a solid 9 to 9.5 (only deducting a fraction of a point for lack of full breakaway capability in a rearward moving impact). I'll report back in the coming weeks after I have a chance to put some trail time on them. Right now, I couldn't be happier with my latest mod'.