Discussion Starter
·
#1
·
I started this project with the intentions af making an install thread but I either forgot to take pictures or they turned out too bad to use in some cases. I think you will get the gist but its not as good as I had hoped. And pay no attention to the messy shop, I've been really busy lately.
OK so I was tired of my tires rubbing in hard turns and it was worse with the snow blade on, Super ATV had a complete set of 1.5 inch forward A Arms no lift for 250. Many folks say they are built cheap but since they have a good warranty and I don't really push my machine hard and mostly it rides the road I thought it would be ok if they were a little bit lesser quality than other brands. Plus they seem pretty popular on other forums.
They arrived fast, but they are only about an hour drive from me, and first impressions are that they are fairly beefy and the welds are all decent.
Everything you need to make the swap is included.
Pretty good instructions.
OK step one is make your ranger look like this..
Now that I had them out, time for a little comparison.
Its hard to tell but they are MUCH beefier than stock. Its very evident when you handle them.
I took a couple of quick measurements and this is what I came up with.
Wall thickness at the bushing location: Stock .125 Super Atv .150
Tubing diameter: Stock 1.010 Super atv 1.270
Install and clock the grease zirks. This was somewhat of a challenge as they do appear kinda on the flimsy side and I imagine it wouldn't take much to twist one off. I had to try different ones in different holes to get them to clock correctly
Swap the bushings and spacers.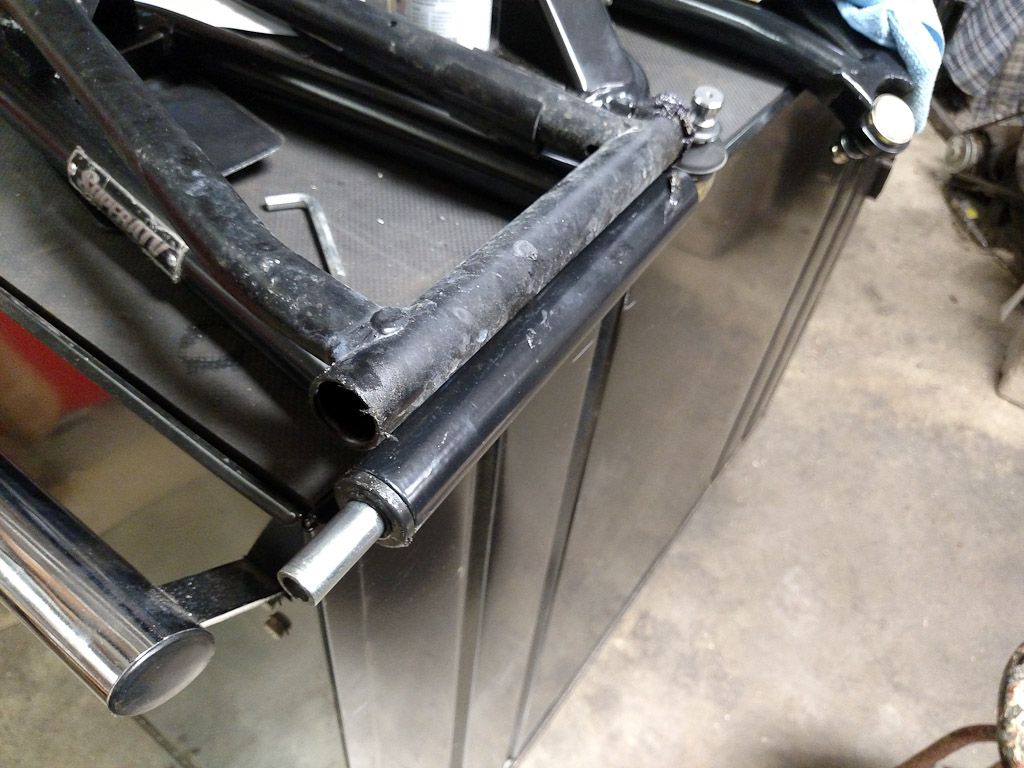 Setting setting the camber to the recommended first setting is a challenge as the instructions tell you to measure from the end to the face of the nut.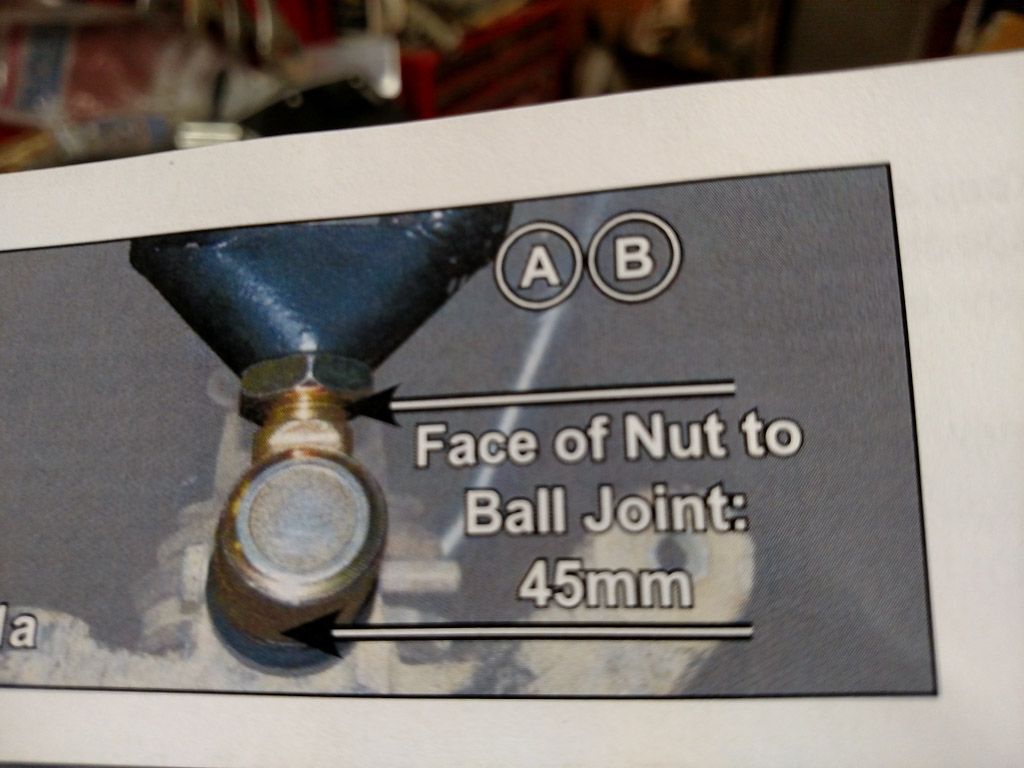 The problem is the end is not flat so its hard to make a exact measurement.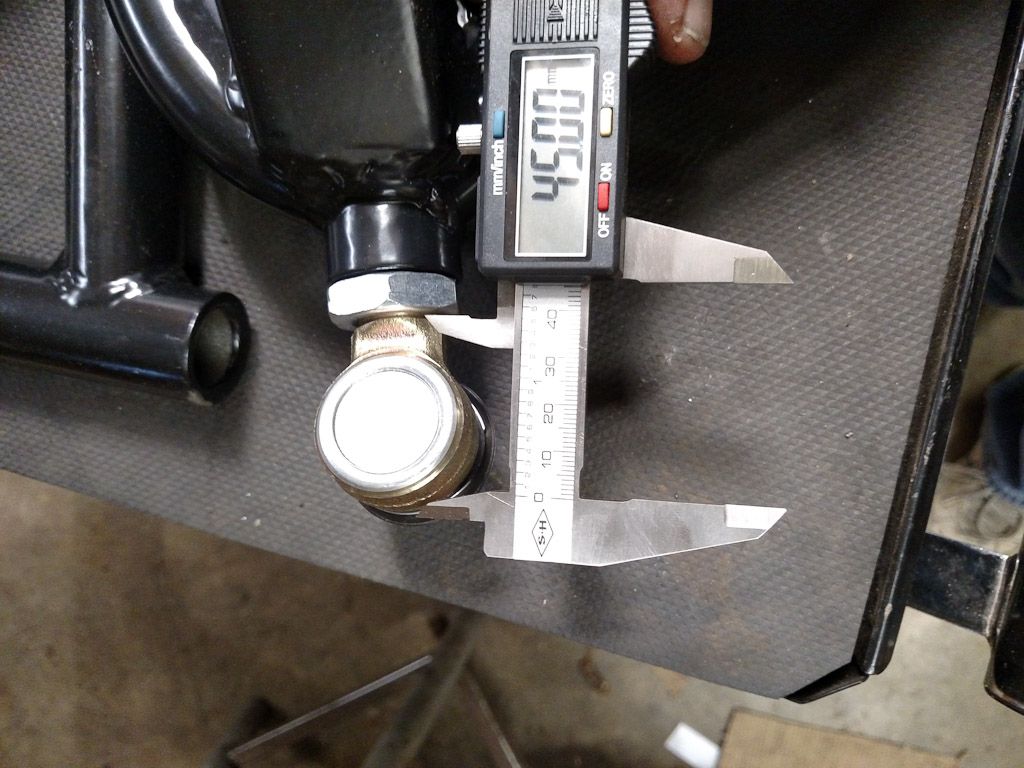 It would be much better to measure from a point like this.
I started here at 37mm and ended up 4 turns out from this for about 1 degree of camber. Your experience will undoubtedly be different.
It also took me a while to figure out the best routing of the beak lines, I couldn't remember how they were on the stock set. I should have taken a picture before I removed them but I eventually figured it out.
I decided not to add the steering stops, I was afraid of losing too much turnbing radius plowing snow. I didn't detect any binding and will have to be easy when backing up while turned hard.
Now by my logic if the extended tie rod ends were the right size then they should be in the same place as the stock set, so I measured and wrote down each side and put the new ones on the same way.
Well you can forget that, it was a complete waste of time. That's about the eleventy-millionth time my logic has failed me
So after you make it look like this you can put the rest of your stuff back on it and begin the alignment process.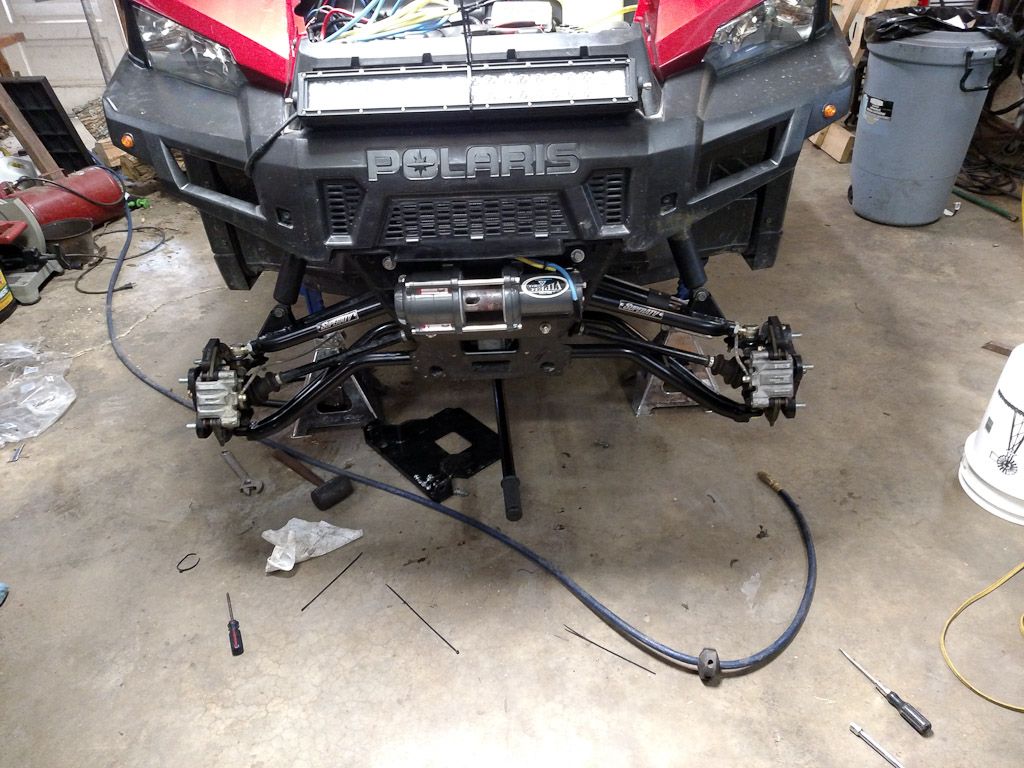 I used this string method I found by searching. I found a thread on another forum that was pretty good but I dont know how mangment feels about linking to other forums. So here is a youtube video that explains the process pretty well.
.
You should get the toe kinda close by eyeball alone then set your camber THEN set the final toe changes in camber greatly affect the toe setting.
I bought an angle finder at the hardware store but it turned out to not really be accurate enough. Near as I can measure it has about 1 degree negative camber.
I was shooting for pretty close to 0 because of the way I use it.
Also the reason I decided to go with 1/8 toe IN measured at the rims.
A quick 60mph trip down the road confirms that it has good on center feel and not as much wandering around as it did with the stock setup.
I never measured the stock toe but I assume it was set to the standard 1/8 to 1/4 toe OUT. I was getting some wear on the very inside edge of the tires.
Wish I had take more pictures but there it is
So far I'm very happy with my decision to go with the Super ATV set.
Now I wish I could adjust the camber on the rear to match.