Well needless to say the weather really sucked over the weekend but fortunatley before the day was over with, believe it or not the sun showed itself. As usual Ron was a great host and I was sure glad to get the phone call from Dan and Lynette Friday just as we were pulling out saying that they were south bound also. Lynette's nickname "Den Mother" on here doesn't do here justice. She's got it together when it comes to getting the grub ready for a feast or just getting everything organized, thanks for that Lynette, (I'm hoping with all the kind words you & Dan won't shoot me for slinging mud on your trailer) [:0]
It was great meeting other members and finally putting faces with usernames [
]. The trails were awesome, everyone had a great time, no one got hurt, but we did log a few damages. Dan & Lynette got some mud and small rocks wedged in the bead on a front tire but we all jumped in, broke the bead, cleaned it out and BINGO no more bubbles [
]. Just as we hit the trail again Jerry AKA Commanderjones snapped his rear drive shaft. After a few minutes of wrenching he was back up and running. All he had was front wheel drive but it got him back to the lodge [
]. I broke in my new steel Polaris roof, dang ya got watch those tree limbs [B)]. I got a couple of dents on the drivers side but nothing that can't be fixed in a few minutes.
We even had "Trail Dancing" this year. Yep, a couple different times Ron would just slide his Ranger to a stop and jump out and start cutting the rug with his radio a jamming. It was great for a good laugh and a video camera would have been priceless at those moments [
]. No doubt Ron knows how to have a good time!! And I can tell ya from experience it's ok to follow Ron on the trails when you first start out but as the day goes on you might want to take an alternate route at certain times [:0].
All in all it was a great day of riding and shooting the bull with friends new and old. I've got a few pics but not many. The rain was bad so we didn't have our camera out much but no worries, Ron took a ton of pics and I know Lynette was taking several to. So standy by, more pics will surface.
A couple pics of the lodge.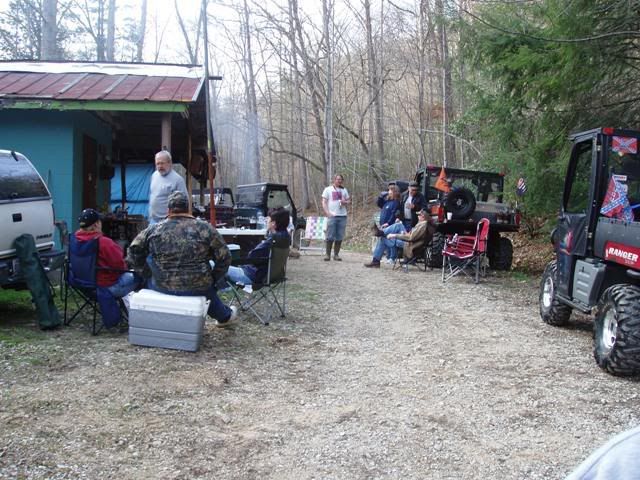 And a couple of pics of my once clean truck. I owe Dan & Lynette a wash job for the back of their trailer and somebody a bag of grass seed. Where some of us parked was a swamp when we loaded up last night. I had the truck stuck and darn near didn't get out.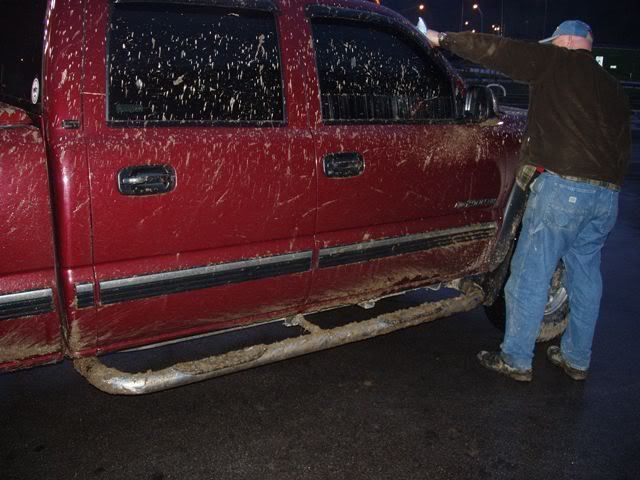 Well thats it for now. I'm really looking forward to seeing everyone elses pics of the ride. I sure wish Poorfarmer had felt a little bit better. I may have to take him some of my "Spring water". I think that would help his sinuses [
][
][
][
][
][
].
I'm sure we'll be loading up and heading back down there for Ron's fall ride, looking forward to it.
Brian